D-Lactate Free Powder 50 grams by Custom Probiotics
D-Lactate Free Powder 50 grams by Custom Probiotics
Product Code: CP-DLF-50G
Availability:In stock
Have a question?
High Count, multi strain probiotic powder with 250 billion cfus/gram.

People have been using this formula for autism, small bacteria overgrowth, and histamine issues.

Probiotics and Autism
Some children in the Autism spectrum have high D-Lactate in their system, that can cause some neurological issues.  Our D-Lactate free probiotic strains will be a safer formula.  The majority of Autistic children have gut flora imbalances and toxicities.  Since there is a gut-brain relationship, normalizing the gut flora have direct effect on their cognitive abilities, eye contact, behavior, stool and agitation.   For further information please review the Autism section on our web site.
Our D-Lactate Free probiotic powder will also benefit people with Histamine and SIBO issues..
Dosage Suggestions and Usage
Start with one adult scoop (0.8 gram, 200 billion cfus) of the probiotic powder first thing in the morning on an empty stomach (30 minutes prior to eating). Dissolve the powder in a glass of de-chlorinated water and drink it. Do this ONCE a day only. Stay at this dosage for about 3-5 days.
If you are not happy with the results, raise the dosage to two scoops a day, one in the morning and one at bedtime. After one week go to three scoops a day if you still are not getting the expected results. The highest dosage we recommend is four adult scoops a day. You can always lower the dosage or stop taking probiotics for a few days. You may aslo visit our Dosage Suggestions section to more info.
How long will a 50 gram or a 100 gram powder last me? 
50 grams is equivalent to 60 adult scoops. Each adult scoop measures 0.8 grams (equivalent to 200 billion cfus). If you take one adult scoop a day 50 grams will last 2 months while 100 grams will last 4 months. We also include a child scoop measuring 0.1 gram equivalent to 25 billion cfus. 8 baby scoops are equivalent to 1 adult scoop.
L. Rhamnosus
L. Salivarius
B. Lactis
B. Bifidum
B. Infantis
B. Longum
Our probiotic formulations do NOT contain dairy, sugar, gluten, soy, corn, casein, yeast, artificial colors, flavors, preservatives, FOS or any Genetically Modified or engineered ingredients.
Below is a table of all the allergens that are NOT present in any of our probiotic formulations.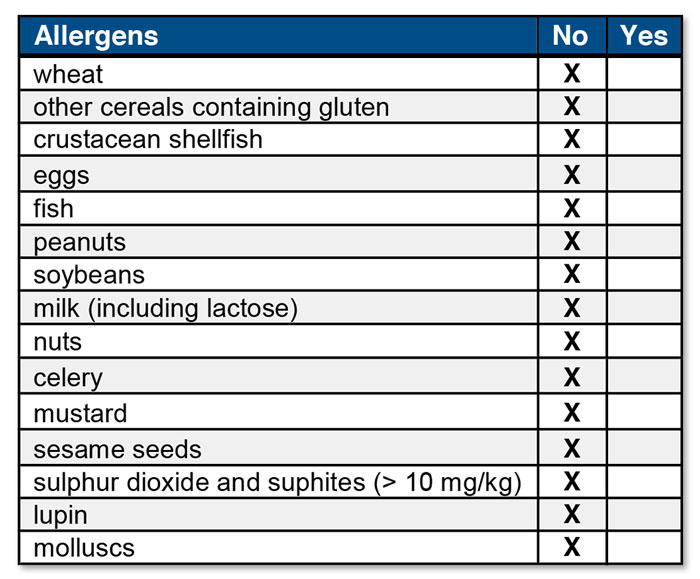 Storage and temperature stability: 

Our probiotic supplements are temperature stable for 2-3 weeks without refrigeration. We have done 2 year temperature stability testing on our probiotics . We overdesign our probiotics so that the loss will not effect the potency indicated on the label. One can travel with our probiotics for 2-3 weeks without refrigeration. It is best however to keep probiotics refrigerated for optimum potency. Below is our 2 year temperature stability study for your information.

Orders that are in stock are dispatched daily at 2pm Monday – Friday.
Orders placed before 2pm Monday to Friday will be dispatched the same day.
Orders placed after 2pm Monday to Friday will be dispatched the next working day.
As such, orders placed after 2pm Friday will be dispatched the following Monday.
Orders will not be dispatched on Bank Holidays or weekends.
For Standard Domestic Orders: We use Royal Mail's Tracked 48hr delivery service as standard. Royal Mail state a delivery guideline of 1-2 working days for this service, however during busier periods (such as Christmas) this may not always be possible. If your order has not arrived after 2 working days from the date of dispatch please contact us. We have tracking numbers for this service and will be able to assist you in locating your order.
For Expedited Domestic Orders (Next-Day Delivery): Provided that we have received your order by 2pm, we will process and dispatch your order the same day using Royal Mail's Tracked 24hr delivery service. This service aims to deliver your parcel within 24hrs of the dispatch time – in some instances this may not be possible and delivery may fall within a 48hr period. If you have not received your order after 1 day from the dispatch date please contact us. This is a tracked and insured service and we will be able to assist you in locating your order.

For Standard International Orders: We use Royal Mail International Track (+ Sign), dependent on what the destination country accepts. Royal Mail state a 3-5 working day delivery guideline for this service within Europe, and a 5-7 working day guideline worldwide. However, we have found this is rarely the case outside of major cities, especially during busier periods (such as Christmas) this may not always be possible. This is a tracked and insured service, please contact us if you have not received your delivery within the above stated time-frames and we will assist you in locating your order.
For Expedited International Orders: We are able to offer expedited international shipping worldwide respected couriers. We can use DHL or another courier of your choice, but we are likely to get the best deal from DHL. Please feel free to use the 'Contact Us' form to ask for a DHL quote for your order.
We are able to offer expedited delivery worldwide using various couriers; this is something that we will examine on a case-by-case basis. Please email us and we will investigate your delivery options and let you know what is possible.
If you have selected a shipping method that does not include tracking/insurance then you accept and agree that in the instance that the parcel is lost or delayed, you will not be entitled to a refund or a replacement product, as we will be unable to make a claim for the loss.
We retain proof of postage at all times and reserve the right to use a different shipping method than you have selected in order to give your order added security in certain circumstances (e.g. for extremely high value orders we may upgrade to Courier delivery). In the majority of situations we will respect the customers chosen shipping method. We retain proof of postage for 180 days. After this time it may not be possible to retrieve your proof of postage.
Standard International Orders are not considered 'lost' by postal carriers until 90 days after the dispatch. As such, we will not consider an order to be officially lost until this time has passed. We may consider an order lost before this date based on tracking information and our previous experiences, but this will be examined on a case-by-case basis.